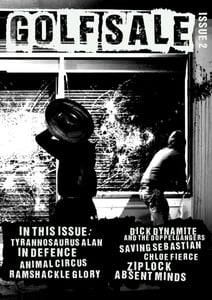 £

3.00 - On Sale
Featuring more stuff than ever before.
Interviews with:
Tyrannosaurus Alan, Ramshackle Glory, In Defence, Stone Kings, Animal Circus, Absent Minds, Saving Sebastian, Buried From Below, Chloe Fierce, Silent Smiles, Ziplock and Dick Dynamite & the Doppelgangers.
Plus artist profiles, reviews, random articles and other stuff.